Featured Reviews
By Claude
A sailor who fell in love with a mermaid
I collect mermaids of all sorts... this image will have an honored place among them. This is one of a very few mermaids shown enjoying their private underwater environment unabashedly.
By Donna Beene
Nice artwork
I have both 'Seated Cat in Blue' and 'Roly-Poly Tiger Cat and they look great together.
Featured Artist
"I don't like labeling myself or my work, so as soon as someone else tries to place me in a category or classification, I rebel and I change."
"Born in 1980 in the Mexican state of Jalisco, I have always enjoyed painting and drawing. All through school, starting with nursery, I enjoyed art classes the most. I think painting has always been my destiny, because throughout my life, certain unexplainable things keep happening that lure me to the path of the fine arts.

"When I was 13 years old, I began to paint more frequently, I've been dedicated to painting, drawing and printing since 2000, and in 2004 I graduated in Visual Arts with a concentration in painting. I have taken numerous courses on a variety of techniques, including oil, acrylic and watercolor painting, encaustic, graphite, charcoal and prints. I have studied with renowned Mexican artists, such as Alejandro Camacho, Enrique Ruíz Rojo, Jose Luis Malo, and Gustavo Alvarado.

"I have exhibited my work individually and collectively in Jalisco, San José del Cabo and Hamburg, Germany.

"I define myself as an eternal seeker. I don't like labeling myself or my work, so as soon as someone else tries to place me in a category or classification, I rebel and I change. I'm not a 'rebel without a cause,' it's just that it's early in my career and it would be dangerous, professionally speaking, to label me already.

"I enjoy having the biggest array of instruments available to express myself. In other words, I adapt techniques according to the theme that I'm working on. I am very careful about my work, and I don't suit mainstream contemporary art because I think it is distant from the viewer. Let's just say it seems to suit only the few who can understand complex concepts.

"I prefer to paint so that the majority of the people can understand and appreciate my work, and that my technique draws their attention. On the other hand, I don't want it to seem like something improvised that anyone could do. My focus is making works of art of good technical quality, with a concept, with feeling, and as creatively original as possible.

"I like realism, surrealism, impressionism and most other '-isms.' My favorite artists include Vincent Van Gogh, Remedios Varo, Leopoldo Méndez, Picasso, Francisco Corzas, Rufino Tamayo, Gustav Klimt, and Toulouse Lautrec. And, my favorite techniques include linocut, oils, graphite and mixed media.

"Most of my themes revolve around people and ordinary activities such as drinking coffee, riding a bike or dancing. Although sometimes I can be more complicated and express my dreams, my feelings, and other personal issues.

"Fine Arts to me symbolize the engine that makes me get up every morning."
Popular Surrealist Paintings
Related Articles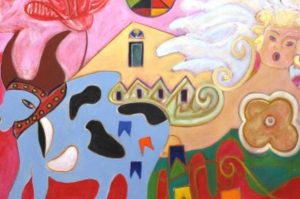 Unless you've taken an art history-specific class, you probably aren't aware of the Surrealist Art movement... read more
Surrealist Paintings
Always startling, surreal art is original and thought-provoking; it celebrates idiosyncrasy. The original intent of the movement was to free the mind from the restrictions of convention and rationality. Artistic methods of liberating the imagination drew on Freud's work with dream association and the hidden unconscious. Arising from the Dada or anti-art movement following World War I, the surrealist movement issued its own manifesto in 1924.
Novica artists convey a vast variety of personal visions in the surrealist painting. Teodoro Reque Liza brings a luminous geometry to architecture paintings and landscapes drawn from the Peruvian coast. Miriam Chipana adds elements of pre-Hispanic art to bright, mixed media canvases. Instilled with a dreamy beauty, Marita Peña Mora's portraits and music paintings explore themes such as angels and goddesses in everyday scenes.
Novica, in association with National Geographic, invites you to discover one-of-a-kind surrealist paintings at incredible prices, showcasing the art of talented artists from around the world.